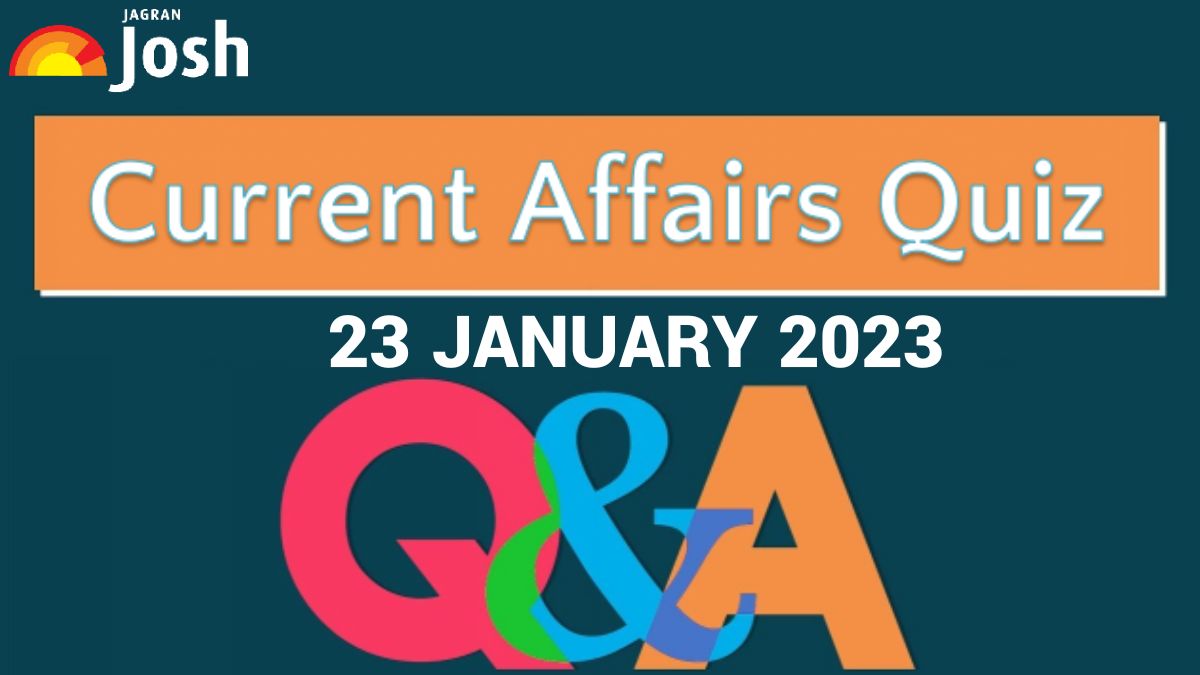 Current Affairs Questions for UPSC: The Current Affairs Quiz section of Jagran Josh aims to help every competitive exam aspirant to revise the Current Affairs of the day with ease. The Current Affairs questions and answers cover topics such as the Business 20 inception meeting, the fifth Kalvari class submarine, and the new Director General of DGCA.
1. In which state did the Business 20 inception meeting is being held?
(a). Karnataka
(b). Madhya Pradesh
(c). Gujarat
(d). Maharashtra
2. What is the name of the fifth Kalvari class submarine inducted into the Indian Navy?
(a). INS Kalvari
(b). INS Vagir
(c). INS Khanderi
(d). INS Vela
3. Parakram Diwas is celebrated to commemorate the birth anniversary of which freedom fighter?
(a). Neta Subhas Chandra Bose
(b). Sardar Vallabhbhai Patel
(c). Bhagat Singh
(d). Lala Lajpat Rai
4. Who has been appointed as the new Director General of DGCA?
(a). Ashwini Sharan
(b). Arun Chawla
(c). Sonal Goyal
(d). Vikram Dev Dutt
5. How many tableaus will be represented in the 74th Independence Day parade?
(a). 22
(b). 23
(c). 24
(d). 25
6. With whose support did Hindustan Unilever launch a plastic waste management initiative?
(a). UNESCO
(b). WHO
(c). UNDP
(d). NITI Aayog
7. How many islands of Andaman and Nicobar islands have been named after the Paramveer Chakra awardees?
(a). 14
(b). 21
(c). 25
(d). 28
Answers:-
1. (c). Gujarat
The Business 20 (B20) inaugural meeting, which is part of the G20, began on January 23, 2023, in Gandhinagar, Gujarat. The inaugural meeting is attended by Union ministers Piyush Goyal and Ashwini Vaishnaw, Chief Minister Bhupendra Patel, India's Sherpa for the G20, Amitabh Kant, Tata Sons Chairman N Chandrasekaran, and a slew of national and international business executives.
2. (b). INS Vagir
The Indian Navy commissioned the fifth Kalvari class submarine Vagir, on January 23, 2023. Admiral R Hari Kumar, Chief of the Naval Staff, was the Chief Guest during a ceremony conducted at the Naval Dockyard in Mumbai. Mazagon Dock Shipbuilders Limited (MDL) of Mumbai produced the submarine in conjunction with M/s Naval Group of France. Four Kalvari class submarines have already been delivered to the Indian Navy.
3. (a). Neta Subhas Chandra Bose
Parakram Diwas marks the birth anniversary of the renowned independence warrior Netaji Subhas Chandra Bose. Neta Ji was born on this day in 1897 in Cuttack, Odisha. Every year on January 23rd, the country celebrates Parakram Diwas to motivate people, especially the youth, to act with fortitude in the face of hardship, as Netaji did, and to instill in them a spirit of patriotic fervor.
4. (d). Vikram Dev Dutt
Vikram Dev Dutt, a senior IAS official, has been appointed as the next Director General of Civil Aviation (DGCA). The appointment has been approved by the Cabinet Appointments Committee. He will take over as DGCA chief on February 28, 2023, following the retirement of the current DGCA chief Arun Kumar. Dutt, a 1993 batch AGMUT (Arunachal Pradesh, Goa, Mizoram, and Union Territory) IAS officer, is now the chairman and managing director of Air India Asset Holding Ltd. (AIAHL).
5. (b). 23
During the Republic Day parade on January 26, 2023, twenty-three tableaux – 17 from States/Union Territories and six from various Ministries/Departments – will roll down the Kartavya Path, symbolizing the nation's rich cultural legacy, economic prosperity, and strong internal and external security. The States/UTs tableaux for the Republic Day parade were chosen on a zonal basis.
6. (c). UNDP
The United Nations Development Programme (UNDP) and FMCG behemoth Hindustan Unilever (HUL) announced the launch of an Inclusive Circular Economy project on January 23, 2023. The initiative focuses on the end-to-end management of plastic waste by promoting waste segregation at source, waste collection, and the establishment of material recovery facilities (MRFs) for recycling all types of plastic waste along the value chain.
7. (b). 21
To commemorate Netaji Subhas Chandra Bose's birth anniversary, Prime Minister Narendra Modi named 21 of the Andaman and Nicobar Islands' biggest nameless islands after 21 Param Vir Chakra recipients on January 23, 2023. During a ceremony in Port Blair, the Prime Minister revealed a model of the Netaji Subhas Chandra Bose Memorial, which will be constructed on Netaji Subhas Chandra Bose Dweep.